IP Transit
Direct Internet Access
IP TRANSIT
Direct Internet Access
in a Datacenter
From 100 Mbps to 100 Gbps
Direct Internet Access from the Datacenter
VERIXI - AS6696
Verixi is operating an international Internet Access Network known as AS6696. This AS is active since the early days of the Internet in 1994.
Verixi is directly connected to 450 Internet Service Providers worldwide.

Ultra low latency - Excellent connection
Verixi allows you to reach
 most of the destinations that you will need directly from our network.
To ensure the same quality for the rest of the world, we are connected to the best Tier-1 providers, either through peering or as transit providers: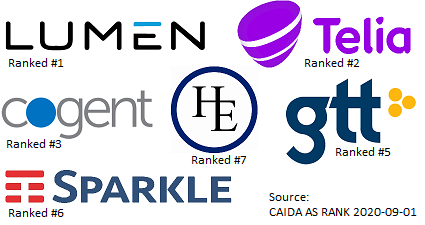 Lumen (Private Peering), TeliaSonera (Transit), Cogent (Private Peering), GTT (Transit), Sparkle/Seabone (Private Peering), Hurricane Electric (Peering). Source: https://asrank.caida.org/
SLA Gold
We guarantee an uptime of 99,99%.