Internet Professional
Available on Fiber, Coax & VDSL
Max bandwidth:                                    250M/50M (Fiber)                                  200M/20M (Coax)                        100M/20M (VDSL)
IPv4 : 1 STATIC
TRAFFIC UNLIMITED
HELPDESK 24/7
REPAIR NEXT BUSINESS DAY
INSTALL FEE: 100 €
Internet Team
Available on Fiber, Coax & VDSL
Max bandwidth:                                    500M/100M (Fiber)                                  300M/20M (Coax)                        100M/30M (VDSL)
IPv4 : 1 STATIC
TRAFFIC UNLIMITED
HELPDESK 24/7
REPAIR NEXT BUSINESS DAY
INSTALL FEE: 100 €
Internet Office
Available on Fiber, Coax & VDSL
Max bandwidth:                                    1000M/200M (Fiber)                                400M/20M (Coax)                            100M/40M (VDSL)
IPv4 : 1 STATIC
TRAFFIC UNLIMITED
HELPDESK 24/7
REPAIR NEXT BUSINESS DAY
INSTALL FEE: 100 €
Internet Access on Dedicated Fiber
Dedicated fiber connection with symetric bandwidth and low latency.
Ultra fast internet access
Fiber optic allows you to surf very quickly up to 10Gbit/s symetric.
Easy upgrade
We can upgrade your line easily and remotely, on demand.
No limit!
No limit in terms of traffic volume and simultaneous users.
Dedicated Fibers
You receive dedicated fibers unlike GPON. The bandwidth is dedicated.
Reliable internet connection
Your fiber connection includes a 24/7 Service Level Agreement. We guarantee an uptime of 99,90%. If needed, we can offer a fully redundant solutionn, through a separate backup line.
INTERNET ACCESS OPTICAL FIBER
SYMETRIC & GUARANTEED
BANDWIDTH

IP TRANSIT
Direct Internet Access
in a Datacenter
From 100 Mbps to 100 Gbps
Direct Internet Access from the Datacenter
VERIXI - AS6696
Verixi is operating an international Internet Access Network known as AS6696. This AS is active since the early days of the Internet in 1994.
Verixi is directly connected to 450 Internet Service Providers worldwide.

Ultra low latency - Excellent connection
Verixi allows you to reach
 most of the destinations that you will need directly from our network.
To ensure the same quality for the rest of the world, we are connected to the best Tier-1 providers, either through peering or as transit providers: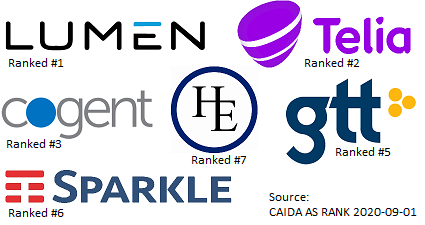 Lumen (Private Peering), TeliaSonera (Transit), Cogent (Private Peering), GTT (Transit), Sparkle/Seabone (Private Peering), Hurricane Electric (Peering). Source: https://asrank.caida.org/
SLA Gold
We guarantee an uptime of 99,99%.